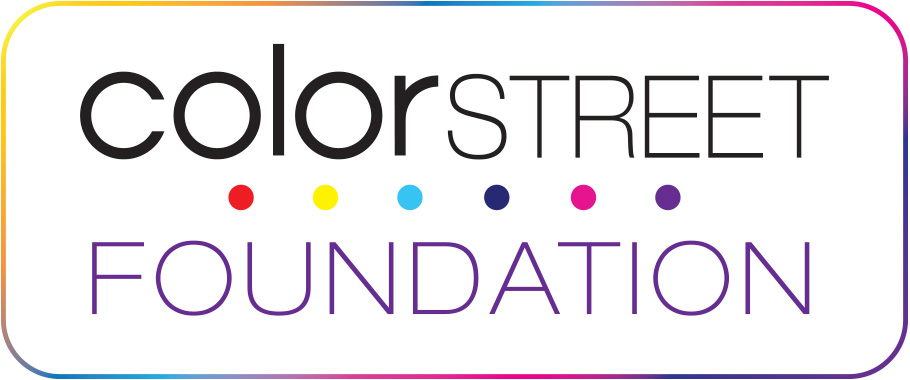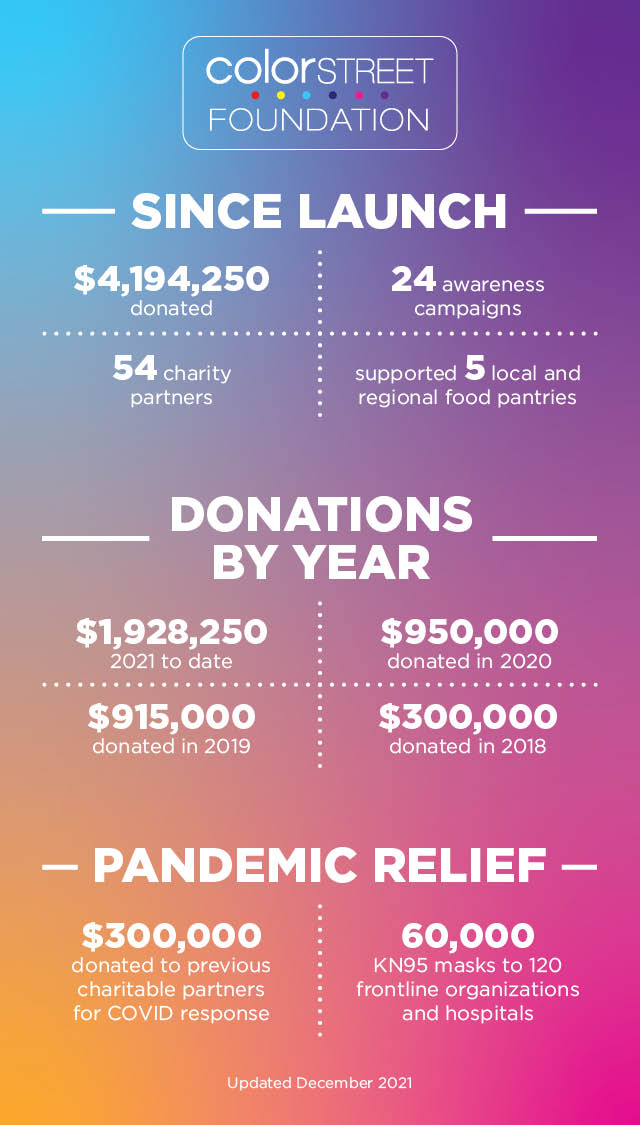 Who knew nail color could change lives??? What started as a simple idea to use our nail strips to "wear your support on your fingertips" and raise awareness for worthy causes that resonate with our Stylists and customers has quickly grown to a larger vision of supporting those causes and their charitable organizations in a big way. In July of 2018, our Founder and President, Fa Park, established the Color Street Foundation, a non-profit organization dedicated to giving back to the community. For its inaugural year, Mr. Park pledged $1 million and the ongoing support of the Color Street Team, reflecting his shared passion for Color Street and charitable giving. As a national brand with a wide reach and dedicated family of Stylists and customers, we have an amazing opportunity to use our nail strips to give back. We aim to support a variety of causes on a national level with the goal of making a difference in as many lives as possible. Equally as important as our financial contribution, our network of Stylists and customers are raising awareness for the important work of these organizations – simply by starting the conversation. This is just the beginning!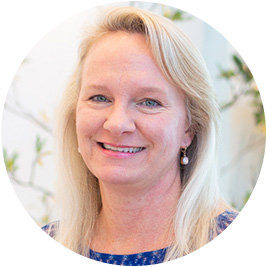 Tricia McNamara
Foundation Executive Director
Color Street Foundation

---
Causes & Foundation Partners
We are proud to raise awareness for important causes and support charitable organizations that are making a difference.
Birth Defects Awareness January 2022
The Color Street Foundation is proud to announce a year-long partnership with March of Dimes and pledge $1 million as the National Signature Partner of the March for Babies: A Mother of a Movement™ campaign. Join the Color Street community as we come together to support the health of moms and babies and help every family get the best possible start.

This January, Color Street presents Precious Gift and Hold Me Close, two limited-edition shades to help raise awareness for infants and families affected by birth defects, and support our partnership with March of Dimes.

Military & Veteran Appreciation November 2021
$100,000 to Fisher House Foundation
$50,000 to Tragedy Assistance Program For Survivors
$50,000 to K9s For Warriors


Ovarian Cancer Awareness September 2021
$100,000 to Ovarian Cancer Research Alliance (OCRA)
$50,000 to National Ovarian Cancer Coalition (NOCC)
$25,000 to Mary's Place By The Sea